Shad as Bait
Using Shad as bait can be productive. After all Shad are a major resource in the food chain of many fish. Fresh cut Shad can be used to catch a variety of fish including Sand Trout, Spotted Seatrout, and even Redfish. Using fresh dead Shad on a trotline to catch catfish is effective and does not require any special care other than keeping the bait cool until it is ready to go on the hook.


Throughout the southern estuaries several species of Shad are found. Alabama Shad range from the Mississippi River basin to Suwannee River in Florida but now are consider rare in many areas. On the other hand, Gizzard and Threadfin Shads are considered abundant. They range across many states where large bodies of water exist from the Great Lakes to the Gulf of Mexico. Also, as is the case with Stripers, some Gizzard and Threadfin pods are completely landlocked, making the use of Shad as bait available even to the most devoted freshwater anglers.


The southern Atlantic coastline has the American Shad, Hickory Shad, and Blueback Herring Shad. Spending periods of theirs life at sea, these Shad are anadromous and return to the estuaries to spawn. Every summer, up and down the waters from North Carolina to Florida, these Shad can be seen ripping the surface as they school.
All Shad species generally move in large schools. These large schools make it possible for anglers the catch them in cast nets. But whether Shad as bait are caught or purchased, all Shad species have one thing in common, Shad are hard to keep alive without proper care.
When fresh caught Shad are placed in a live well, they begin to lose the slime coating that covers their body. Adding to this coating lose is the habit of the Shad to discharge fecal matter into the water which produces ammonia, consequently, conditions in the live well soon becomes toxic.
Another factor affecting the Shad's survival is the amount of dissolved oxygen in the water. Shad require lots of aeration. Also, keep in mind warm water holds less oxygen than cold, thus warm water will become depleted of oxygen sooner. These factors must be addressed if the Shad are to remain alive in any type of container.
If the Shad is being kept in a boat aerated live well which "continuously" recycles the water, the Shad should have a good chance of surviving unless to many are placed in the live well. It is better to go with fewer Shad than lose them all because the live well is overstocked. Unfortunately, the only way to learn how many Shad your live well can handle is often by trial and error. If after a few attempts the Shad are not surviving, try adding a 12 volt battery-operated Frabill Magnum Bait Station or something similar. This should help even in smaller live wells.


For self contained live wells a filter should be added to the Oxygen Infusor to remove waste, slime, and scales, however, ammonia buildup may still become a problem over time. To calm the Shad and reduce their stress, some anglers will also attempt to cool the water down with ice, be very careful not to cool the water more than about 5 degrees. Also, do not take the ice out of its bag, keep in mind most ice has chlorine which will kill Shad.
When using Shad as bait fishing freshwater lakes or rivers, some angler will add about a cup of salt to very 10 gallons of water to help stabilize their Shad. This helps to reduce the body slime and scale lose. Brackish water by its nature already had sufficient salt, so when fishing in estuaries adding salt is unnecessary.
Having a soft body, with small scales, without any sharp spiny fins, and loaded with fatty proteins, Shad are highly desirable for Spotted Seatrout, Stripers (which include the Hybrids), Largemouth Bass, White Bass, and Crappie, all of which feed on live Shad regularly. Shad as bait can be fished in all the traditional ways on medium tackle. When using a bottom fishing rig, try lip hooking the Shad through the eyes or nostrils. Smaller Shad can be hooked in the dorsal and fished using a sliding cork. With large Shad try using a two hook rig with one single hook through the nose and a treble hook in the low part of the tail, then slowly troll near deep dropoffs.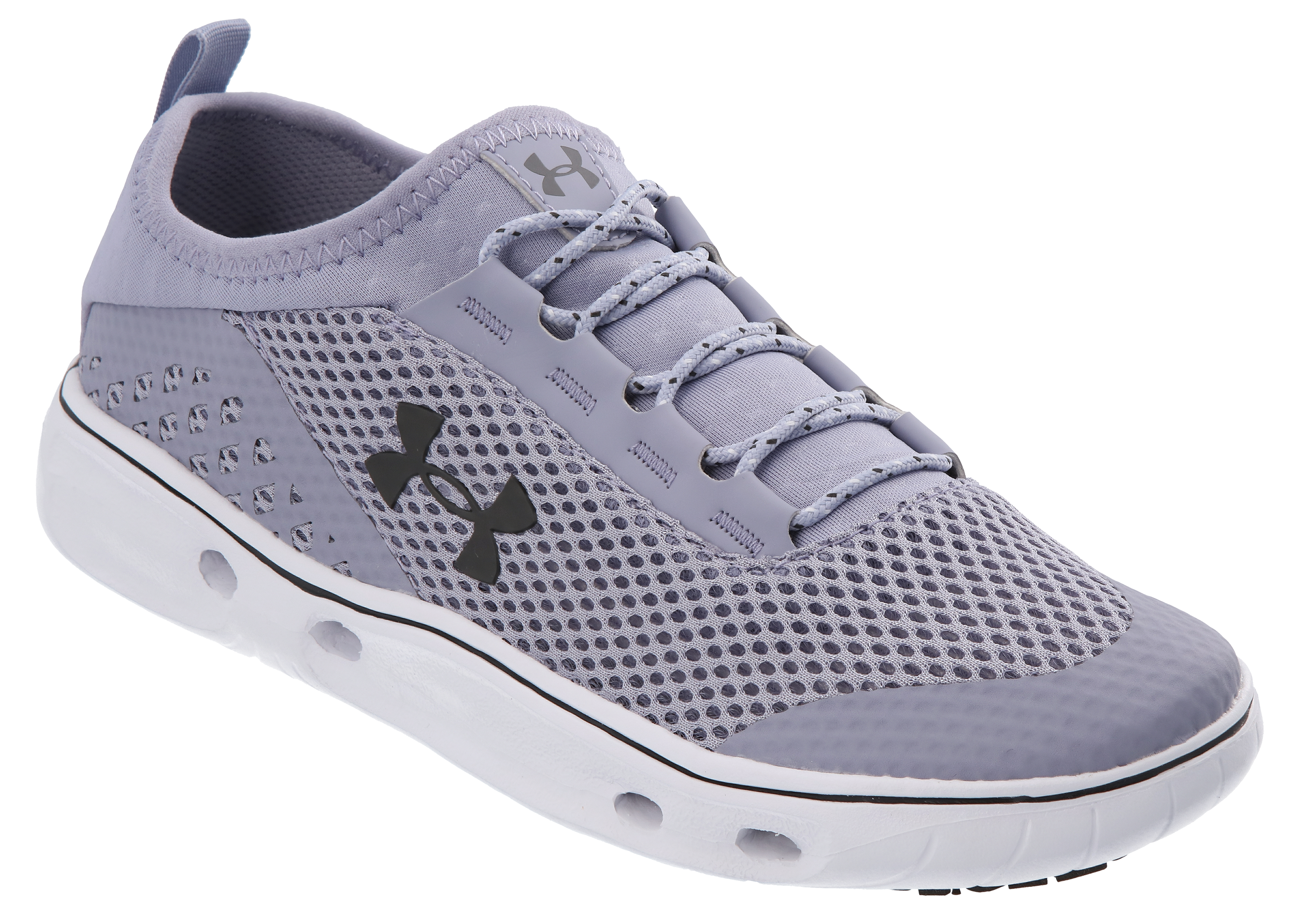 Under Armour Kilchis Water Shoes for Ladies
Fishing Tackle Tips ~ Fishing Season ~ Fishing Boat Tips
Live Bait ~ Artificial Lures ~ Fishing Dictionary