Spotted Seatrout
The Spotted Seatrout inhabits all salt marsh estuaries from north of the Carolinas down to and around through the coastal regions of South Texas. Known in many areas as Specks (or Specs) or Speckled Trout, they have long been a favorite of southern anglers. Identified by the numerous round dark spots scattered along their sides and two large canine teeth on the front upper jaw, Spotted Seatrout are not only great sport but excellent on the dinner plate.


Speckled Trout are a predatory fish that aggressively attacks anything it thinks is food. Bait fish such as mud minnows, finger mullet, pin fish, and even menhaden constitute the Specks primary diet. Feeding along shallow grassy flats, over oyster beds, and around the mouth of tidal creeks, shrimp is also high on their menu.

Speckled Trout are a water temperature sensitive species; therefore Specks are generally not far from areas of deeper water. Traveling between these areas as temperatures warm or cool helps the Specks regulate their body metabolism. An angler's understanding of this behavior helps catch more of these fish.
On hot summer days the old saying that "the early bird gets the worm" is certainly true when it comes to catching large Seatrout. Even before the sun has risen the sound of Specks striking the surface gives their position away along shallow sea grass beds. A live shrimp tipping a jig, a finger mullet free lining toward the grassy edge, or the strip of fresh cut bait fish attached to a popping cork are all effective ways to catch Seatrout. As the heat of the day increases oxygen levels in the shallows may decrease forcing the Spotted Seatrout to seek the comfort of cooler deeper water. Using a standard bottom fishing rig baited with a live shrimp, a strip of cut fish, or any variety of live fin fish should prove productive. Then as late evening approaches the Specks will often return to the shallows to feed once more.

As winter sets in and temperatures drop, the Speckled Trout will migrate into deep water bays, river channels or into the Gulf of Mexico. Schooling together in limited areas, larger Seatrout are often caught near dropoffs and ledges. Plus, if one or two fish are caught, do not be in a hurry to move out of the area, there are probably more. Sliding cork rigs are good for deepwater winter Seatrout when fishing dredged canals, boat basins, or around structures below 10 ft.

Another reason for the Speckled Trout's popularity is due to their willingness to aggressively attack artificial jigs, soft plastics, spoons, top water and bait fish-like lures. Some anglers even employ the use of a popping cork to bring attention to their lures. Keep in mind however, that during the winter months the Seatrout's metabolism slow significantly, so the lures should be worked at a slower pace than in summer.
Jeremy, a contributor to Fishing-Tips-Bait-Tackle.com, lives in the Southeast Texas area and fishes Sabine Lake near Port Author provided these tips:

"Speckled Trout fishing throughout the Texas-Louisiana coastal region is outstanding. The Trout population here is healthy making a day of Speck fishing more often than not successful, especially when the sky is overcast.

My day of Speck fishing generally begins with rounding up some live bait. I prefer finger mullet but shrimp always work. If neither are available artificial diving minnows like Rapala Shad or top water lures similar to Rapala Skitter will suffice. However,Gulp shrimp is my favorite standby.

To find my Specks I look for diving birds. Birds are a dead give away because schooling Specks in a feeding frenzy will force bait fish to the surface allowing the birds to get in on the action. These schooling Specks generally average around a pound or two and will hit almost anything you can throw at them. I often hook finger mullet or shrimp on a 1/4 oz jighead. I will cast toward the schooling fish and allow the bait to sink slowly. It only takes a moment or two before the bait is struck. The action is so fast, it is not uncommon to catch twenty or thirty fish in just a couple of hours.

I also like to fish at night for Specks. I always fish lighted area around boat docks or piers and for large Specks it pays to be stealthy. I like to free line a live finger mullet toward the lighted dock or cast a Gulp shrimp under it and let the shrimp sink slowly. I am rarely disappointed when I go after Speckled Trout."
Jeremy also says if you intend to keep some Spotted Seatrout to eat, immediately place the fish on ice to maintain its quality and don't delay cleaning the fish when the fishing is over.

Here's one more tip: Very large Spotted Seatrout like large bait. Even though a six to eight inch free lined mullet can be hard to control, the reward may be a ten pound or better Trout.
From Spotted Seatrout go to the Home page
"Contact Us"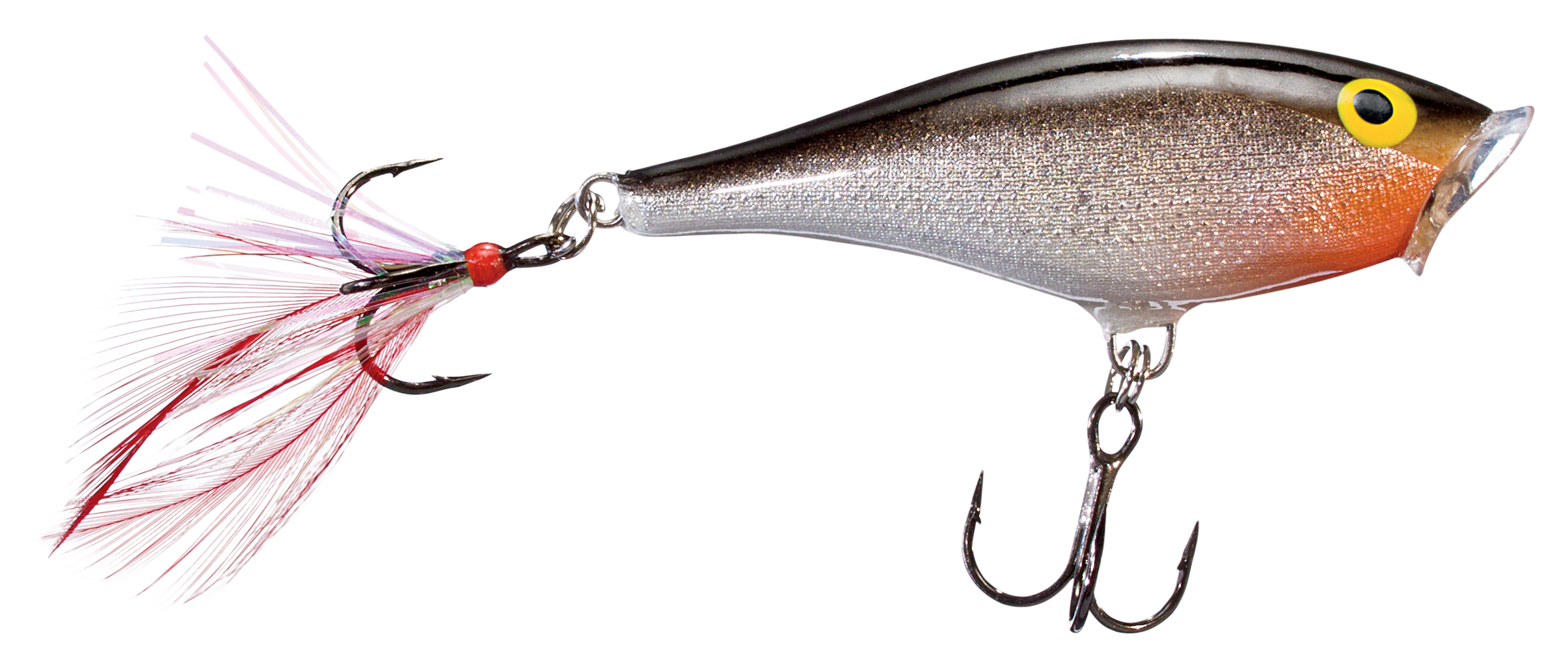 Rapala Skitter Pop
Fishing Tackle Tips ~ Fishing Season ~ Fishing Boat Tips
Live Bait ~ Artificial Lures ~ Fishing Dictionary