Striper Fishing Tips
These Striper fishing tips are effective for all species in the genus of Morone consisting of Striped Bass, White Bass, Yellow Bass and all hybrid Striped Bass. The Striped Bass, which will be the main focus of this discussion, is the largest in size and weight of the genus. Listed as a freshwater species, Striped Bass are diadromous which enables them to habit both saltwater and freshwater environments. This means Striped Bass are caught in many of the southern estuarine water.
Striped Bass have a olive green to bluest tint coloration, white lower abdomen and 7 to 8 longitudinal stripes running from the gills to the tail. These "Stripers" can grow to more than 50 pounds and 10 pound fish are common. They are aggressive feeders, strong fighters, and very tasty especially when fried.


The first of the Striper fishing tips begin with knowing what food they prefer. Just about any species of live shad are high on the food chain for Stripers so if you have them use them. However, shad can be very hard to keep alive here in the south. Shad generally require lots of aeration and a large live well, so many Striper anglers use shiners, preferable golden shiners. Shiners require aeration too, but often survive better in a smaller live well than shad. The trick is to present a live bait to the Striper. Other effective live baits include baitfish such as small pinfish and finger mullet and, of course, live shrimp work very well.
The second of the Striper fishing tips involve their preferred environment. Stripers do not tolerate water temperatures over 75 degrees well. This makes them a prime target during cooler months. Although Stripers are caught during the summer months, it is a good bet they are not far from a deep hole or drop off where water temperatures are cooler. Next, unless landlocked such as in a large lake, Stripers looks for flowing water. In fact, Stripers need flowing water to spawn, this is a major contributor to why many Stripers populations are stocked annually. These fish stocking initiatives have also led to the development of the hybrid Striped Bass programs. These hybrid Stripers are a cross between the White Bass and the Striped Bass. The hybrids grow rapidly, have good survivability, and provide an excellent food source. Also, the hybrids, though not as large as Striped Bass, provide many of the same sporting highlights and can be easily identified by their broken longitudinal stripes.
When water temperature are cool, bottom fishing with a lip hooked baitfish near drop offs in flowing water will catch Stripers. Fish areas where water lilies or other aquatic plant grow or where a smaller waterway flows into a larger one. Floating a golden shiner on a bobber as when fishing for large mouth bass works well in these same areas.
During the summer months bottom fishing using live shrimp, shad, or shiners is still the ticket however, the bait needs to be fished in the areas where the water temperatures are 75 degrees or below. This generally can be achieved by fishing deeper water areas. A sliding float rig is an effective way to get a shrimp down into these cooler water zone enticing the Stripers to bite
A medium strength baitcasting or spinning reel loaded with 17 to 25 pound test line should work well and generally no special leader line is necessary. A 3/0 to 5/0 hook depending on the size of the bait will do.
And the last of the Striper fishing tips: Stripers will aggressive attack spinner baits, shad like plugs, and artificial diving minnows such as Berkley Flicker Shad especially during the cool months. Fast trolling these baits can product schooling Stripers as well.
From Striper Fishing Tips go to the Home page
"Contact Us"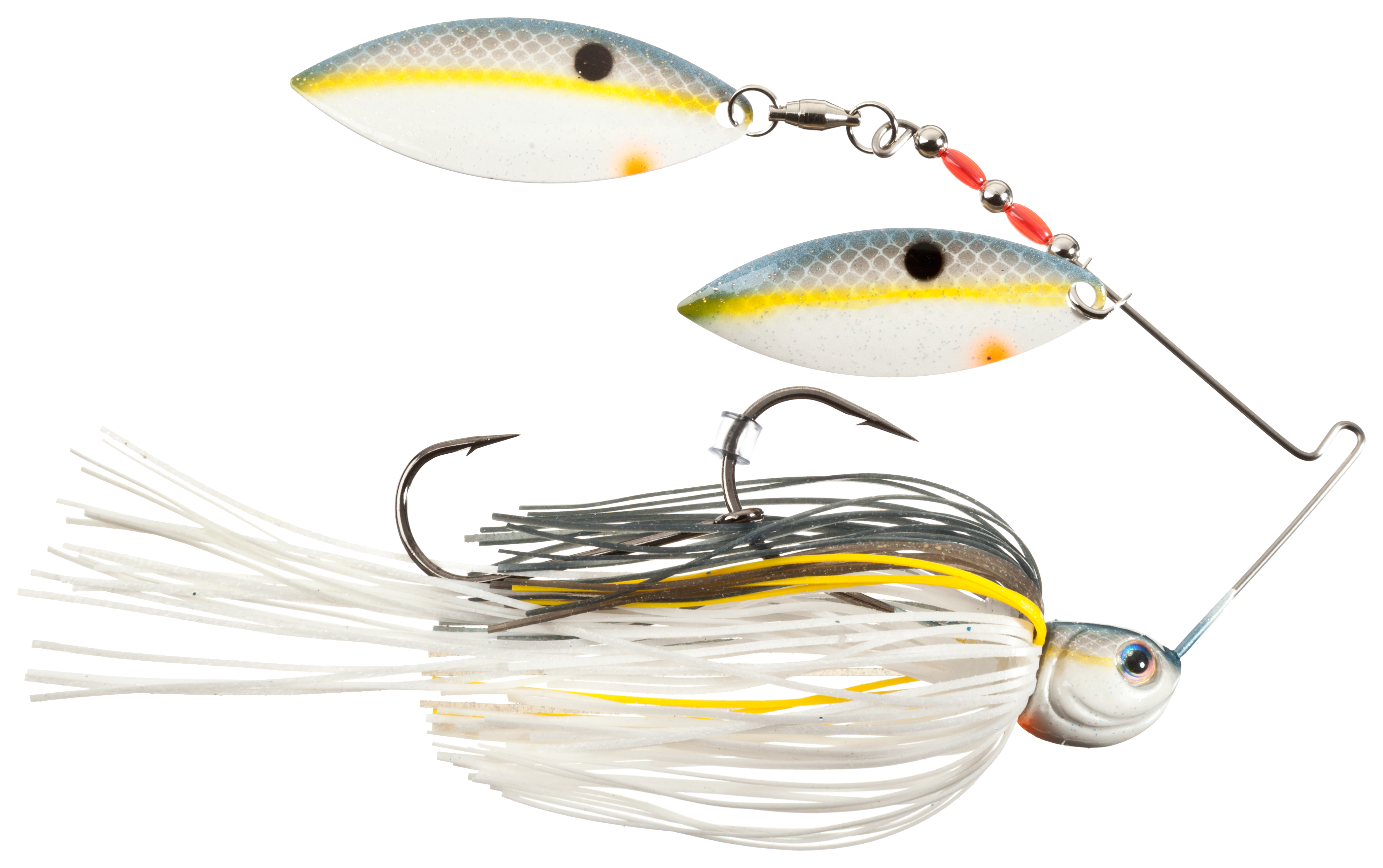 Strike King KVD Painted Blade Spinnerbaits
Fishing Tackle Tips ~ Fishing Season ~ Fishing Boat Tips
Live Bait ~ Artificial Lures ~ Fishing Dictionary